---
Cry DiskWars & Let Flip the Pogs of War!
Looking for DiskWarriors? ... subscribe to DiskWars at YAHOO!

and the FFG's Messageboard is another place to chat & trade.

Sprechen Sie Deutsch? Forum zum Computerspiel DiskWars

---

Blood & Prophecy Battle Box
There was not enough support, so Fantasy Flight Games never did print this fixed-flat, non-random expansion for DiskWars. To bad... DiskWars is now out of print!!!
7-August-2006 Here is a link to a home-made DiskWars scenario The Great War which includes three custom disks and an image of the Oboros the Lich disk.
15-Jul-06: DiskWars - The Great War a Germany PC computer game is in the works ... looks awesome! Here is a Master DiskWars Spoiler in MS Excel Workbook format and Oboros the Lich promo has been added to the promos page. Besides a major over-haul of the entire site for prosperity sake ... this will probably be my last and final update to this site. As long as tripod.com keeps it on-line (and if it keeps getting hits) I think it might be here until the end of time.
20-Feb-2002: FFG has started League Play again ... so far only TI:Armada and the LoTR boardgame, but we can only hope for some DiskWars events.
12-Dec-01: I've cleaned and condensed most of my posts frivolous fluff below. If you want to see another expansion of DiskWars by FFG ... check out their B&P PRE-Order Info Page They need 500 orders.
Blood & Prophecy Battle Box: A fixed-flat, non-random expansion for the fans.

The Shadow Serpent has awakened, and now is the time of X'ru. But this is no time for superstition, for this is the time of victory and these are the last days.
09-26-01: -2 Year + 1 Week Anniversary of the SLDWeb-
08-13-01: -FFG Clearance Sale at GenCon 2001. (Darrell said to me at the con that FFG had cut their teeth (i.e. got there feet wet and won an Origins Award) on the original disk-game. We can still look forward to many more games in the future, but probably not for this original classic. He did not say it, but I think DiskWars is dead, whereas TI:Armada and a rumored Blue Planet disk-game should take its place. Adios old friend.-
07-04-01: DiskWars at this years GenCon 2001
05-28-01: CONduit 11 Report a-la James plus the English translation of the German promo disk and Helspanth X'ru promo stats too. (I have these promos for sale)
05-05-01: Fantasy Flight League is alive and SLDW is bringing DiskWars etc. al. to CONduit once again
04-08-01: -June to be DiskWars Month #2 and TI:Armada is HOT-
03-17-01: Broken Shadows Spoiler per faction / per rareness
8 Broken Shadows Army Sets: Prophecy (Dragonkin)Tombs of Ice (Undead), Sword of Daqan (Knights), Latari Wind (Elves), Banner of the Raven (Orcs), Forgotten Forge (Dwarves), Hand of Llovar (Uthuk), Return of One (Acolytes) @ 2 Fixed Flats, 6 Random.

An alliance of Elves and Acolytes has set out through the Wastelands in desperate attempt to reach the citadel of Llovar. They are exhausted, hungry and hounded by enemies on all sides. Things are about to get much worse.
02-14-01: -new League Play restrictions and 2001 FFG convention schedule posted-
01-01-01: -January is DiskWars Month-
10-25-00: Waiqar's Path Spoiler per faction / per rareness
10-15-00: -delayed expansion set ... banter ... whining.-
8 Waiqar's Path Army Sets: The Shadow Serpent (Dragonkin), The Bone Coast (Undead), The Broken Crown (Knights), The Fire Within (Elves), The Eternal Horde (Orcs), The Dunwarr Gates (Dwarves), The Ru Lords (Uthuk) and The Welqu Storm (Acolytes)
Each Legions set is a complete game, ready to be played by both beginning and experienced DiskWars players. Legions contains everything you need for a two-player game of DiskWars.

The wise ones say that the Char'gr Wastelands are full of demons. They say evil twisted creatures lurk beneath the earth, lying in wait for unwary travelers.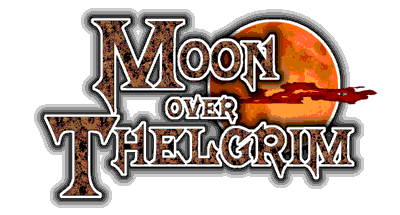 There is a bad moon rising, full of blood and ill omens. The Great War has come to Thelgrim, and death follows in its wake.
08-07-06 A nice review of the Moon over Thelgrim set (search this site for more links too)
02-29-00: Moon Over Thelgrim Spoiler per faction / per rareness
02-13-00: Siege Tourney Skirmish (reflection)
02-07-00: MoT Bash #2 SLDWeb Skirmish
01-30-00: Suckin' Blood Stack (thanks James Hunt)
01-24-00: League Play SLDWeb Skirmish
01-17-00: MoT Bash Skirmish (MoT is released)
10-04-99: Moon Over Thelgrim SLDWeb Playtest & Feedback
8 Moon Over Thelgrim Army Sets: The Draco Wing (Dragonkin), Frothan's Ghouls (Undead), The Groman Guard (Knights), The Sons of Triamlavar (Elves), Zocrab's Marauders (Orcs), The Hammers of Urth (Dwarves), The Knives of Q'aro Fenn (Uthuk), and Waiqar's Sundermen (Acolytes)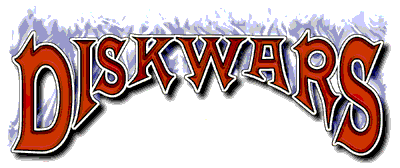 Published by Fantasy Flight Games

Winner of the

Best Science Fiction or Fantasy Miniatures Rules

Origins Award 1999

Eight mighty armies have gathered to do battle with magic, steel and cunning. Does your army have what it takes to triumph?
---

Check out theses unofficial SLDWeb DiskWars Demo rules, a Table-Top.pdf display and a One Page.pdf rules for running DiskWars at sci-fi conventions along with our DiskWars Sealed Box Draft home brewed tourney rules ... all of these items are pre-FFG DiskWars League.

---
This DiskWars web page is maintained by SLDWeb.
[ Previous 5 | Flip Previous | Previous | Next | Flip Next | Next 5 | Random Site | List Sites ]