---
Cry L5R DiskWars & Let Flip the Pogs of War!

Shadowlands
15-July-2006: DiskWars - The Great War a Germany PC computer game is in the works ... looks awesome! Here is very large ShadowLands PlayTest PDF file along with the official L5R DiskWars Rules in PDF file and an unedited Shadow Lands Spoiler as well.
12-12-01: I've cleaned and condensed most of my posts frivolous fluff below, but I am still looking for a Shadowlands Spoiler
10-01-01: Imperial Ed. Spoiler updated (thanks to Bill Frost)
09-26-01: -last FFG L5R DiskWars web-site update on Feb. 15, 2001-
08-13-01: -FFG Clearance Sale at GenCon 2001-
02-14-01: Rants & Raves about Shadowlands
I am looking for the breakdown of Shadowlands Edition Starter Sets (?) & Boosters. Help!!!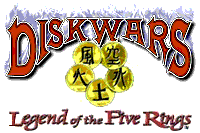 Imperial Edition
11-10-00: -there was a set of revised rules in the making ... what happened?-
09-30-00: The Pseudo FAQ v1.3 update and new Promo Disks from the Imperial Herald magazine
09-10-00: Imperial Ed. Spoiler from AEG
08-30-00: -more up-dates to the Pseudo FAQ-
08-15-00: -SLDWeb Pseudo FAQ first posted-
08-05-00: SLDWeb Report L5R:Rules of Play Issues
07-24-00: Origins 2000 (thanks Earl Lindsay)
07-24-00: Promo Disks They need their own link
5 Imperial Edition Starter Sets: Ancestral Home of the Lion, The War Fortress of the Crab, The Esteemed House of the Crane, The Provincial Estate of the Unicorn, The Sacred Temple of the Phoenix, and The Mountain Keep of the Dragon
Imperial Edition Booster: Sold as a generic booster with no specific faction.