---
Cry RangeWars & Let Flip the Pogs of War!
15-July-2006: DiskWars - The Great War a Germany PC computer game is in the works ... looks awesome! Here is an idea for a strategy for the The Whateleys (Black Clubs).
12-10-01: I've cleaned and condensed most of my posts frivolous fluff below. Looking for a RangeWars game and you can find an opponent. Try the Solo #1 and Solo #2 game (thanks Tony)
10-01-01: -FFG disk-game on-line clearance sale-
09-26-01: GC Deed Spoiler ... GC Spell Spoiler ... GC Dude Spoiler updates and the 2 Year + 1 Week Anniversary of the SLDWeb
08-13-01: -RangeWars bombs at GenCon '01-
07-04-01: Updates and FFG High Noon Tourney at GenCon '01 announced.
04-08-01: -AFMBE / DeadLands cross-over book announced (pre D20)-
03-17-01: -first GC spoiler posted-
02-14-01: -completed GC checklist-
01-01-01: Partial GC Check List ... please send me the missing info
11-23-00: -SLDWeb Page quest for GC info.-
8 Ghost Creek Sets: The Dupont Secret (Whateleys), Fort Dread (Beauchamp's Rebels), Fire on the Range (Morgan Cattle Company), Theater of Ashes (Wretched), Hawthorne's Strike (Sweetrock Mining Company), The Hanged Man (Blackjacks), The Doomsday Machine (Collegium), and Marshall Law (Law Dogs)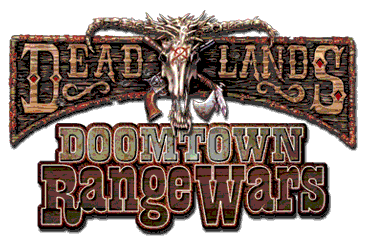 11-10-00: -SLDWeb playtests Ghost Creek-
10-15-00: -SLDWeb Page quest for GC info.-
08-30-00: Official RangeWars Demo Set review
08-20-00: Promo Disks GenCon's new dudes...
08-07-00: The.xls Files.zip Gang Construction MS Excel File (thanks Pat Dolan)
07-22-00: Dude Spoiler & Deed Spoiler by Outfit, Spell Spoiler by Type
07-17-00: Out of the Box Report by Pat Dolan
05-25-00: SLDW Report Pre-release Demo Report
05-16-00: RangeWars SLDW Playtest & Feedback
8 Starter Sets: Beauchamp's Rebels ´, The BlackJacks ©, The Collegium ´, The Law Dogs ™, Morgan Cattle Co. ©, Sweetrock Mining Co. ™, The Whateleys ®, and The Wretched ®.
1 Demo Set: (denoted by a red "D" on the dudes/disk) where the Sweetrock Mining Co. fight the BlackJacks over a Rock Outcropping.